Ciaculli Mandarin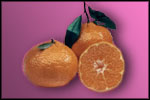 roduced from February to April it is a high quality variety. Flat shaped, medium dimensions, delicate and sweet pulp. Unfortunately it is very sensitive to the environmental variations and its aspect, upon the same tree can vary from one year to another.
Clementine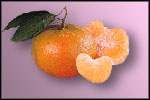 is a hybrid obtained by the cross of the mandarin with a bitter orange. Without seed, a particular that makes it of very high quality on the national and foreign markets. Its dimensions are very small, but its flavour is sweet and outstandingly appreciated.
Monreal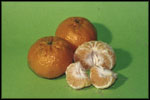 in 1941, Mr V. Monreal discovered a clone (implant ) whose productivity was four time more than the common clementines. Unfortunately the "Monreal" presents numerous seeds, that are not appreciated by the consumers.
Havana Paternò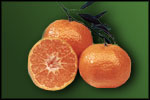 with a raised peak area, thick peel, juice deep orange colour dimensions medium to large. Produced from December to February.