Valencia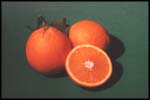 matures in May, it has a spheroidal shape, pale red peel with a generally thick and rough peel.
Navelina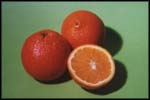 matures from October to December, but can resist longer on the plant, by increasing its degree of sugar. Its peel is of a medium fine grain and its colour, depending on the maturation,varies from a faint yellow to an intense red.
Ovale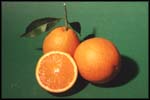 matures in April, it has a stretched oval shape, golden peel with a fine or medium grain.